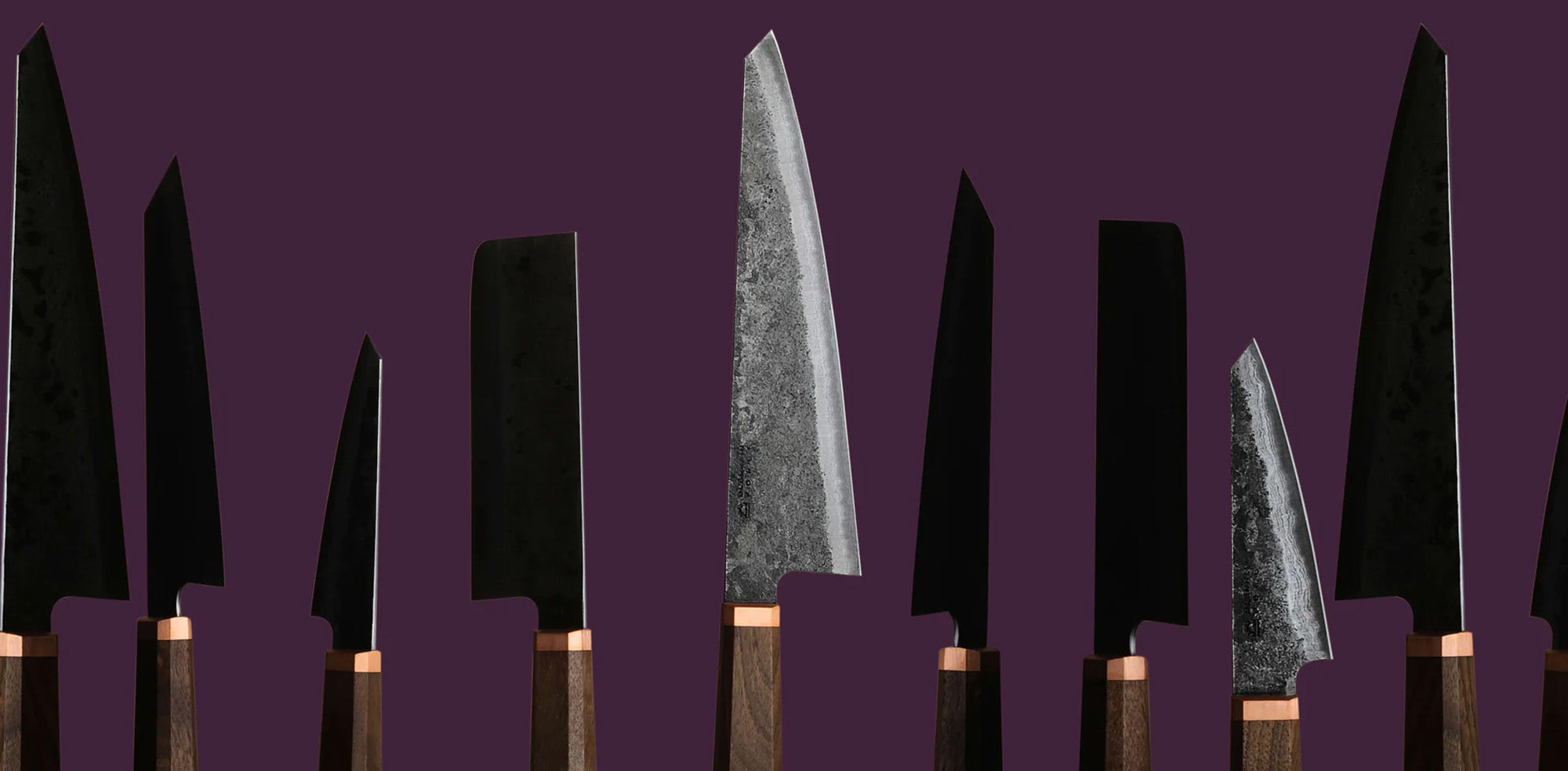 Chef Knife Connoisseur's Gift Guide
Knives are personal, and we're here to help you find the right knife for any chef.
Every knife we stock combines form and function without compromise, crafted by top artists around the world.
Below are stand-out blades in a variety of styles, spanning various price points, from classic chef's knives and gyutos to blades for peeling & paring, vegetables, butchery, carving & serving, herb chopping, and bread slicing.
Versatile, All-Around Knives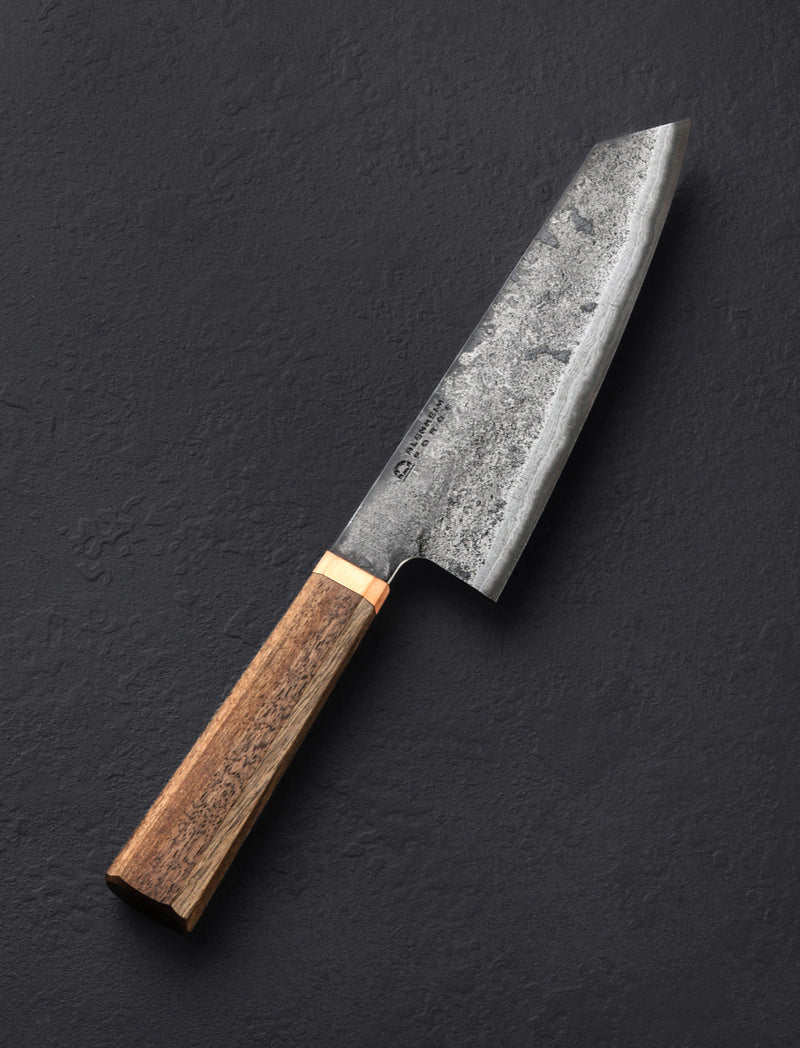 $390
Hand forged in London from carbon san mai steel, the santoku is designed to do it all in any size kitchen.

$725
A daily workhorse for home cooks and pro chefs alike, this gyuto combines form and function with sharp style, and an even sharper, carbon steel edge.

$850
A clean and classic French-inspired full size chef knife handcrafted in Sweden, this 235mm blade is designed to be your do-all workhorse. A customer favorite.

$550
Compact, versatile, and efficient with Japanese-inspired profile and homemade san mai carbon steel, the Gyuto LS185 excels at everything from the largest cuts to precision slicing.

$1,235
A one-of-a-kind chef's knife with handle sculpted from reclaimed skateboard decks, this bunka delivers outstanding versatility in a bold, head-turning style.

$1,345
Check every box for your chosen chef with a matching set handmade in London, built to tackle every cutting task in the kitchen.
Premium, One-of-a-Kind Chef's Knives:

$895
Modern machining and traditional hand-work come together in this one-of-a-kind knife with extraordinary fit and finish designed to do it all.

$1,800
This striking, full-size chef in house-made steel forged from damascus, copper, and a carbon edge delivers outstanding geometry for workhorse performance with bold style.

$3,000
An exceptional build from Northern California bladesmith and damascus artist Nick Anderson boasts a hand-forged blade in Nick's one-of-a-kind feathered mosaic damascus steel, integral bolster, and handle sculpted from vintage micarta.
Paring & Peeling:

$170
Forged in small batches in South Korea, this rustic peeling knife is crafted for variety of handheld cutting tasks. 

$485
The perfect addition to arsenal of a budding home chef or seasoned professional alike, the Parer LS115 offers blade strength and reach in a compact, nimble profile shaped in Gothenburg, Sweden from Swedish-made carbon steel.
Vegetable Knives:

$365
A classic, Japanese-inspired vegetable chopper forged from Aogami Blue san mai steel is a fantastic addition to a cooking aficionado's kitchen.

$1,900
Aesthetics and function combine in the functional art that is Noah Vachon's Morpho Damascus Nakiri, a striking, one-of-a-kind vegetable knife for the chef whose kitchen is curated to perfection.

$1,900
Unique, precise, and handcrafted to perform by maker Jerarmie "Jezz" Heywood of Australia. Any chef will feel like a professional with this strong and striking blade in their hand.

$2,600
A very special blade for a very special person - forged by Isaiah Schroeder and engraved by his wife Rebecca Rettenmund, this nakiri in mosaic damascus and house-made shibuichi is as stunning as it is utile.
Butcher's Knives:

$455
 Infinitely versatile with its tough, weighted blade and strong, pointed tip, a style traditionally used in Japan for poultry butchery, this Honesuki forged from Aogami Super san mai steel is the ultimate kitchen utility blade.

$615
A knife as hearty as it looks, this handcrafted, limited-edition deba is designed for filleting seafood and lends itself to any cut where a strong, forward-weighted, and tough blade is called for.

$1,585
For the experienced butcher, help them show off their skills with style. A thoughtfully crafted, one-of-a-kind meat cleaver will be a gift they will never forget (and never want to put down).
Carving and Serving Tableside:

$1,800
A stunning and dramatic blade, this hand-forged damascus sujihiki is perfect for someone who wants a knife just as interesting as the meal they're serving.

$2,500
A showstopper guaranteed to impress both the presenter and their guests, this artful blade is as beautiful as it is functional, exceptionally sharp and balanced.
Herbs and Spices:

$465
Something unique for the chef who already has it all: an herb chopper forged by the talented Tai Goo in Arizona's Sonoran Desert. Hand hewn iron hanging hook and nail included.
Bread Knives:

$435
Uniquely striking, the Loop Bread Knife takes a kitchen staple to the next level. A perfect gift for the bread baker and host, handmade in Sweden.

$285
In a more rustic approach, this bread knife's offset design allows for comfort and control as it slices.

$650
A beautiful take on a classic bread knife, the thin nickel layer is not only stylish, it acts to inhibit carbon diffusion from the strong, high-carbon core that forms the hard, sharp edge.
Check out our Gift Guide for cookware, utensils, and more here, too!