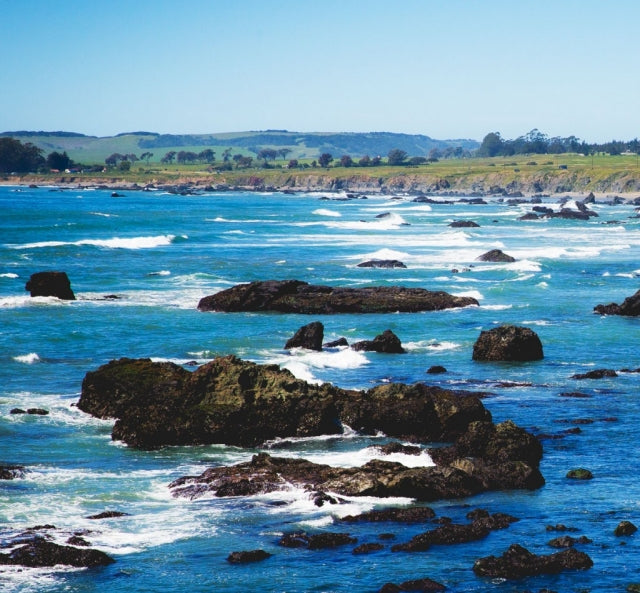 On The Road: Visiting Our California Artists
Here at Eatingtools we're only as good as our artists. Fortunately we know some incredibly talented designers, woodworkers, bladesmiths, and craftspeople who practice a range of disciplines around the globe. Having the opportunity to work and spend time with these creative, innovative, and dedicated artisans is what it's all about.
In early April I traveled the Pacific Coast Highway from Los Angeles to San Francisco and north to Santa Rosa. The natural beauty is matched only by the food and the hospitality of the artists I visited. Of the four I spent time with (none for long enough), some I've known for years, like knife maker Don Carlos Andrade, and some I met for the first time. Come along as I share some photos from this wonderful adventure!
It began with a brunch at the Nickel Diner in LA's arts district were I met Tim Roberts of Glyph Design and his lovely girlfriend Crystal. We feasted (I had a tall stack with bananas) and talked about Tim's woodworking and creative influences, which include his conservation work, not only in his native state California but across the country. Helping to revitalize spaces from coast to coast, Tim often has opportunities to create tools from harvested wood that he he is simultaneously saving from destruction.
From Los Angeles I drove north, through Santa Barbara and along the Pacific to Los Osos, a small beach town just west of San Luis Obispo. Los Osos is the home of our friend Don Carlos Andrade, chef, sculptor, blacksmith, and all-around great person.  
Our first stop was the Baywood / Los Osos Farmers' Market. And what a spread. It goes without saying that the early spring markets at home in NYC cannot quite compare.  
We worked up an appetite shopping for fresh ingredients, but instead of cooking we headed straight for Kuma and didn't look back. Recently opened by the team behind a highly regarded local burger joint, Kuma serves outstanding Japanese fare including ramen, sushi, and appetizers like the Wagyu Chorizo Dumplings I started with. Chef Nogi treated us to a picture-perfect sushi plate of his choosing and a huge bowl of tankatsu ramen with pork and a side of garlic butter. We did not leave hungry.
Back at the workshop, Don gave me the opportunity to take a few hammer blows to a piece of red hot steel, something I'd wanted to do for a long time. I now understand just how addictive it could easily become, and how much practice is needed to achieve a level even remotely resembling proficiency, let alone mastery.
And so, despite the thrill of forging on my own, there was nothing quite like watching Don himself strike when the iron was hot, his expert hands and all-seeing eyes forming the steel with nuances indecipherable to the untrained spectator. Precision forging, he calls it: not simply shaping the blade's basic outline in preparation for other tools and processes, but tapering the blade lengthwise and laterally, forming the curves and angles of the spine and choil and more. No power tools needed.
The bladesmithing of the steel itself is only part of what Don does. Designing new models and sculpting handles that fit like gloves, for example, are activities clearly influenced by his time in fine dining kitchens and decades of stone and bronze sculpting. Pictured below are some of the beautiful, handmade files he uses to carve wood, micarta, and other handle materials.  
A short video of Don in action: 
From Los Osos I headed a few miles east to neighboring San Luis Obispo where Laura Rittenhouse lives and works. Furniture designer, woodworker, and creator of the Chork, it was wonderful to finally meet Laura after working together from afar for more than two years. She treated me to a delicious lunch of seared tuna along a stream's edge in San Luis Obispo's university-centric downtown where we chatted about the future of the Chork (more to come later) and our fondness for various woods and materials.  
Before lunch Laura showed me her home studio and the tools she uses to build each Chork by hand.  
If you're not familiar, the Chork is designed as a simple, elegant chopsticks-fork hybrid. In my book it's absolutely perfect for serving hors d'oeuvres as well. Perhaps it will come to life with new materials in the future.
With a long drive ahead I said goodbye to Laura and hit the road. Driving Route 1, or the Pacific Coast Highway, is an inspiring experience on its own and I took my time as I made my way to Oakland and then Santa Rosa. 
After a stop in Carmel-by-the-Sea—where I had a quick snack at Basil, a welcoming restaurant downtown serving seasonal dishes inside and on the patio, including a half dozen oysters and an oyster soup that was to die for (what can I say, the ocean makes me crave oysters)—I continued on to Santa Rosa where I stopped for a late-night snack at In-N-Out Burger. They may not serve oyster soup, but it sure was satisfying, especially to an East-Coaster like myself.
The next day, after a lunch that included a pint of Pliny The Elder straight from the tap at Russian River Brewing, I headed across Santa Rosa to the home and workshop of Stephen Fitz-Gerald (pronounced STEH-fen). 
It was my second time at Stephen's shop. He is an artist of several disciplines, including the metal sculpting he's best known for. He also produces stunning photography and has a green thumb in the garden. I was excited to spend another afternoon with him, having hit it off a couple years ago. The son of the late sculptor Clark Fitz-Gerald, with whom Stephen worked during the early stages of his career, Stephen draws his inspiration from his father, the natural world around him (ocean life in particular), and the people who have shaped him over the years.  
From larger-than-life decorative sculptures and interpretations of the human form in breathtaking metallic facades to the simple yet captivating utensils he creates for Eatingtools, Stephen is an inspiring artist who is determined to follow his heart and never compromise in his vision of what a piece should be. 
I find myself in awe over endless sculptures throughout his home and studio...
Working to complete a commission (a custom 12-foot glass-top table, the base of which is a to-scale replica of a human pelvis, vertebrate, and neck welded and shaped from solid steel), Stephen was preparing to head to the University of Maine in Orono where he has been asked to spend several months preparing an installation originally made by his father for a second unveiling in The Collins Center for the Arts. The 21-foot-tall bronze chandelier, weighing more than a ton, spent two decades at the Collins Center, beginning with its grand opening in 1986.
After a quick beer on the back porch of his home, with Stephen's mind squarely on his upcoming trip to Maine and his father's chandelier, my time in California had come to an end, and the sun set on a memorable journey.
- Abe Shaw