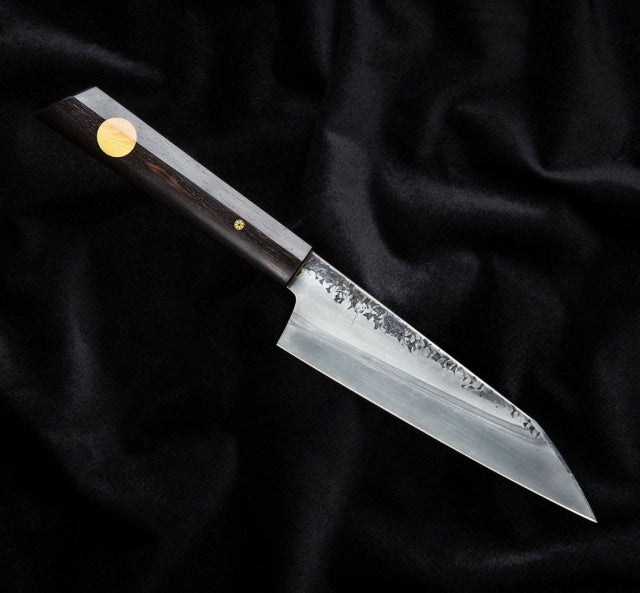 Don Carlos Andrade: Inspiring Cooks with World-Class Knives
Don Carlos Andrade—bladesmith, chef, sculptor—designs and builds some of the finest kitchen knives available to inspire cooks around the world. Using primarily hand tools, he has forged, shaped, ground, and carved a portfolio of knives suited to infinite culinary requirements.  Here he is, in an excerpt from the documentary Slow Is Fast, on the driving forces behind his knife making:
Chef, Sculptor, Knife Maker 
Don's interest in handmade knives began when he entered culinary school in Los Angeles. When he decided to start making knives, his philosophy was a conscious departure from the attitude found in professional kitchens: "Much of the high-pressure and high-heat aspects of the production kitchen were counter to the mindful approach that I developed in my own cooking practice, and this brought me eventually back to the most basic tool that would inspire people to cook their own foods."
Maple & Ebony Paring Knife 
Don realized that his work is intrinsically linked to his interest in health and healing, as knives have played a central role in sustaining and nourishing for tens of thousands of years. "Kitchen knives [are shown] to be an integral part of health and family life, in that if we are at home, cooking for ourselves and loved ones, we tend to have more family connection and conversation, better relations, and overall health."
Vintage Micarta 1095 Paring Knife 
Honoring the relationship between preparing food, and health and wellbeing, has become Don's mission and a cornerstone of his creative process. Despite Don's almost 20 years as a sculptor, he sees knife making as a way to distance himself from creating purely aesthetic objects: "I started to question the usefulness of the objects I spent so many hours creating. How did they enhance their owners' lives? What did they ultimately mean for the living body?" Don's thoughtful, conscientious approach is apparent in every knife he creates. The results are high-performance knives with heirloom quality and umami flavor. 
Tribal Chef Ultralight
Heirloom-Quality Knives
When Don refers to his knives as "heirloom quality," he means two things. First, knives are generational objects and working tools: "The history of handmade knives is as old as anything physical." Don has knives in his kitchen that date back to the 1800s. While others would keep these antique knives purely for display, Don uses them daily—as their crafters intended.
Second, "heirloom quality" reflects the essence of any fine tool or handmade object. Don explains,
Just as the energy of a mindful state in preparing one's food became very critical to my own culinary practices, so did my intention in creating an heirloom-quality tool. My knives are made in what I consider to be Sacred Space, meaning that every knife is made with intentions of health and wellbeing for the owners and users of it and is imbued with loving thoughts throughout the process of creation. Special prayers are bestowed on the blades prior to heat treatment. This practice for my work is paramount since I am making a tool that cuts the foods that sustain and nourish us.
Handmade Start to Finish
Don strives for improvement and perfection in his craft. For seven years, he made knives using minimal power tools—not even a grinder or drill press. Today, Don still has the capability to make a knife from start to finish without using electricity. His hands, a selection of hammers, and the anvil and forge remain the centerpieces of his practice.
But regardless of the tools or processes he employs for any given knife, Don is relentless in his focus on the subtleties of what it means to build a world-class kitchen knife. This includes a commitment to superb fit and finish and an emphasis on balance, ergonomics, geometry, and aesthetic design.
Modern French Chef
Mentor, Tai Goo 
Recently returning from a two-week trip to Arizona to see mentor and friend Tai Goo, Don reflects: "As always, I come away inspired and refreshed towards trying new things and evolving my craft. " Tai Goo is a master metal smith (meaning that he is a trained jeweler, knows non-ferrous metals just as well as ferrous metals, knows the metal arts inside and out, and holds a Masters of Fine Arts). Like Don, he relies primarily on handheld hammers and hand tools.
"If I had to say one thing about what Tai Goo instills in me, other than confidence as a maker, it is that knives are spiritual objects, and also the viewpoint that 'if it is fairly easy to sharpen, holds an edge well, is durable and well crafted, then what more could you want from a knife?'"
African Blackwood Utility Knife 
Ultimately, Don's appreciation for art and life is expressed as his intuitive grasp of the needs of the knife's owner: "My primary intention is to create a fine tool that feels amazing in the hand and functions in a way that inspires people to prepare and cook their own foods at home." We're inspired.