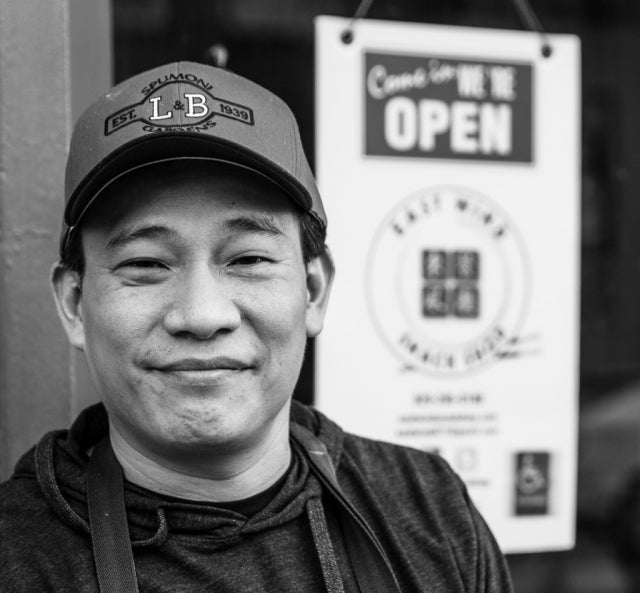 Chef Chris Cheung on NYC's Food Scene and His Knife and Spoon Obsession
Chef Chris Cheung, previously of Nobu and Jean-George among other NYC stalwarts, has appeared as both judge and competitor on The Food Network's Chopped, on Anthony Bourdain: No Reservations, and on The Martha Stewart Show to name a few, and for good reason.
Just up the street from our office is his latest venture, an eatery of his own, East Wind Snack Shop, where he puts out some mighty fine dry-aged beef potstickers and those amazing house-ground Niman Ranch pork dumplings. Chris has received glowing reviews from the New York Times and New York Magazine, and Brooklyn Magazine awarded him "Best (Bao) Buns" and "Best New Old School Dessert." We asked him a few questions while he prepped for a recent dinner rush. 
You've had this [East Wind Snack Shop] for over a year now. When people ask you, "What do you do?" do you say, "I'm a chef," or a "restaurant owner"?
Oh, I'm a chef. Restaurant owner is nice, but restaurant owner is the chore of it. Chef is what you have fun with. I mean, I can go over numbers and have to fix the sink and complain to my purveyors all day, you know.
The other question is a lot of my friends don't understand the business and don't understand what I do. They see it from the outside looking in, and they're like, "How could you do that?"
I got a friend. He manages real estate. He has a couple houses. He makes good money. You know, he makes more money than I do, but he doesn't work. He collects rent and hires contractors, but he's not working all day. He can't understand how I actually stand here for 15 hours a day and do it. We both played sports together, and I'm like, "Remember when we played sports, and during the game you were in the zone? I'm in the zone all day." I love being in the zone. Being in the zone and to be able to be in the zone all day is awesome.
So, the New York food scene....You've been around the block, so to speak. There's no shortage of new and exciting things. What are the trends that you think could stick? What's going on right now that's exciting that might actually have some legs?
I don't know about sticking. The trends come, and then the page turns, and it becomes part of the fabric of what food is, and the really good stuff always finds a way to make a comeback. It's a lot like fashion. It's a lot like music.
It's a different world these days. It used to be, when I was growing up in the business, it was fine dining, and then you accepted everything else. And that's how it is. Now it's turned a little bit. Fine dining is a little bit turned down right now. And it's Cheap Eats and the Best Of's and things like that.
So is that going to last? Is that due to larger cultural shifts, or is that more of a culinary and dining world–specific thing that the culinary-powers-that-be have created?
I think it happened organically, to tell you the truth. I don't think it was the culinary-powers-that-be because the culinary-powers-that-be at the time were all fine dining. And this happened organically, where people would stand on line for 3 hours to get, you know, a Cronut or a Ramen Burger, or whatever it is.
I think it was a total rapid culmination of people falling in love with good food. That's what it was, and knowing that good food doesn't have to be that expensive.
Alright, I've got to ask. We hear a rumor that you're Anthony Bourdain's go-to guy for Chinese food recommendations in the city. He's coming here for breakfast, lunch, and dinner this weekend. Where do you tell him to go?
That dude is a busy guy. We haven't been in serious contact with each other, but he's been all over the world. I'd go to him for recommendations. He doesn't have to come to me for recommendations.
But as far as my favorite places: A lot of my favorite places in New York City Chinatown are already closed. They're done. Great Chinese chefs, owners, cooks, and workers open places, serve great food, but didn't even try to serve great food. They tried to serve the best food they could, but they were in the business to serve the working class mainly in their neighborhoods in Chinatown and make a living and send their kids to college. And that's exactly what they did, and the kids went to college, and now they're doctors and lawyers and accountants and pharmacists, whatever it is, and they don't want to take over mom and dad's restaurants. There's nobody to hand it off to, so they close, and that's the end of something great.
Any one that you miss dearly?
All of it. Joy Luck, on Mott Street. South Wind, on Division Street. Yuen Yuen, on Bayard Street. Hay Hay, on Mott Street. There were a ton of them. They're all gone.
Those are the ones I miss, but if I was to give you my 5-point tour of where I would go for last meals: [1] Pan-fried Flounder at Hop Kee. That's the top. That's the number one. That's my favorite dish. I go, and I have to have it. That's the one I crave.
I'll go off another track and go more towards somebody who I really like, and I love her food. It's not Asian at all. [2] Spotted Pig: Gnudi, Chicken Liver Pate, and Lamb Burger, and that's all you need. That's another that's on the list. If you haven't eaten that, you have to eat that.
[3] Minetta Tavern's burger, Black Label. It's basically this: I'm eating the burger and then eat the fries. While I'm eating the fries, I'm thinking about the next bite of my burger. That's how good it is.
[4] Oxtail at Ping's. Even though he's more known for seafood, the Braised Oxtail at Ping's.
Let's see...[5] Pizza at Di Fara's.
How often do you do that [pizza at Di Fara's]?
I don't do it often. My schedule is tight, and, as much as I respect the man, he is one of those guys where I totally admire the dedication to the food. It's always about his making food and making it the best he can, and that means he's a master because he's capable of doing what he sets out to do. He's a master. However, as a restaurateur, I hate to go to places where I'm not guaranteed food. We do that here sometimes, and I understand the philosophy: make what you make, and you're not going to start making stuff in the middle of the day. It has to be a fresh batch, and you have to do it to order. So I understand that, and I don't blame him for it. It's just that, for me, I don't want to wait 3 hours and not have food, so I pick my times. I've worked with him. I'm not, you know, bustin' on him or anything like that. But since my schedule is so busy, I try to work around it. But when you do get it, it's phenomenal. It's always worth going down. You have to pick your spots.
Let's talk dim sum specifically. Favorite dim sum spot?
In New York, my favorite dim sum spot...probably East Harbor or Golden Unicorn. Golden Mountain in San Francisco has really, really good dim sum, and I really enjoyed it. It was a particular taste about it. It was really, really good.
Dim sum, although quality of food is great, it's about the interaction and where you are and family and friends and sitting and snacking and drinking tea, so it's very communal. It's something good for the soul to go eat dim sum, so for me even as a chef the food sometimes comes second.
With that being said, all I can tell you is, if you really want a full dim sum experience, go on the weekends and go early. And don't be afraid. You know, it's not expensive. You can point and see something that you may like or maybe something that you totally wouldn't think you would like. Order it anyway. See what it tastes like. You never know. And that's the fun of dim sum. You don't have to make that much of a commitment or investment for a really good time.
What are the top dim sum dishes? What are the most traditional ones to go with?
If you're a dim sum chef, you're rated by your peers on how well you can do har gao, which is the translucent, see-through shrimp dumplings, char siu bao, siu mai, and chicken feet are also highly regarded. There are some big desserts: the gah yung bao and the custard buns and those things. Those are kind of my favorites. I look forward to that really at the end of the meal only because I haven't really had many great ones in the last few years. When I was a kid there was so much. Chinese food, although it's coming back around and turning better, there was a small period of time where it was more centered on speed and convenience.
So, cooking tools. I have a thing for chopsticks. Plating, serving, cooking, eating with them. What do you like using them for?
OK, so I started at Nobu, and so I was around guys who.... See, you gave me that pair of chopsticks, right, and for the life of me.... I'm Chinese. I've used chopsticks all my life. But I use chopsticks as, you know.... It's for scooping rice into my mouth and things like that. When I went to Nobu, though, these guys had these long metal chopsticks, and they're plating noodles and grabbing everything, and they're experts, and their hands are so dexterous. In that world, chopsticks are used like an art, and you have to have special techniques, and if you do that you should have some great chopsticks. You have some gorgeous chopsticks in your collection. So, you know, a dazzling pair of chopsticks is super, super cool.
Were you forced to learn the skills at Nobu?
No, I wasn't forced to learn the skills. These days I think it's so much cooler to use chopsticks than tweezers. All the fine dining in rigid kitchens with the plating...it's tweezers. It would be so cool whipping out a pair of chopsticks to do all that stuff because it's actually more delicate than tweezers because you have a little bit more control of the pressure points on the tips and you have a more wide range on the way the two sticks meet so you could actually do more with chopsticks than you could do with tweezers. But it is a little tougher to handle at first. Like anything, nobody starts out a 3-star chef. You always look upon the chef as, I wish I could get to that point, and after a while you do. Same thing with chopsticks. Same thing with hitting a baseball I guess.
You do an amazing amount in an unbelievably small kitchen here. What are those key tools that, when you're limited, you can't do without?
Your general chef's knife is something you have to have, and depending on the kind of work you're doing a good butcher knife is good to have, a good slicer is good to have, a good paring knife is good to have. Everything else is kind of, you know, depending on what you're doing that day in the kitchen. You need a good cleaver, things like that. You can go and shop for knives and be lost for hours and take every single knife. But I will tell you this: if you're going to get a really good knife, learn how to sharpen it, and get a good stone.
Do you sharpen your own?
Yeah, I sharpen my own. Have to sharpen my own.
What kind of stone do you use?
I use a 6,000 grit and a 3,000 grit, and then I have a diamond stone that I use to take off a little bit more in the beginning, and it's all about control from that point. If you're spending hundreds of dollars on knives, a couple of bad swipes on a bad stone is going to make that knife not good for you. And a good knife makes your work so much finer in the kitchen. Better results faster, and you get more work done, and it just makes the day easier for you. It is really in the tools.
I've known some chefs who don't care, and they have the same knife that they've been using for 10 years, and it's a crappy knife, and they don't sharpen it, and they think it's in their skill, and it's not true. Your skill is very, very important, but without the proper tool to get it done you're not going to reach the height that you need to reach. Doesn't matter if the food is rustic or fine. Sharp cuts are sharp cuts.
And it's true, the knife is unlike all the other tools in the kitchen. It's an intimate part of the cooking experience, referred to as an extension of the cook's hand. Does it hold a place in your heart larger than just the steel and...
Oh, chefs are usually crazy about knives. I'm no different. We go nuts about knives. After you sharpen them, to kind of feel the edge and to hear the "twing." You could do that for.... We actually do it for more than we should. It's kind of a little sick. We get a little sick with it. Having knives, and even when you're sharpening them, there's something therapeutic about sharpening them and getting it to where you want to get it. I guess like tuning your guitar or tuning a piano or something like that.
We get obsessed with spoons. Chefs are obsessed with knives and spoons. I have been known to swipe a spoon or two from a restaurant, and I feel bad, and it's not.... I'm not doing it just.... It's just, we have this obsession when you see a really nice spoon.
So I always leave a nice huge tip just to make up for it. It's not about the actual price. It's just about the spoon, you know.