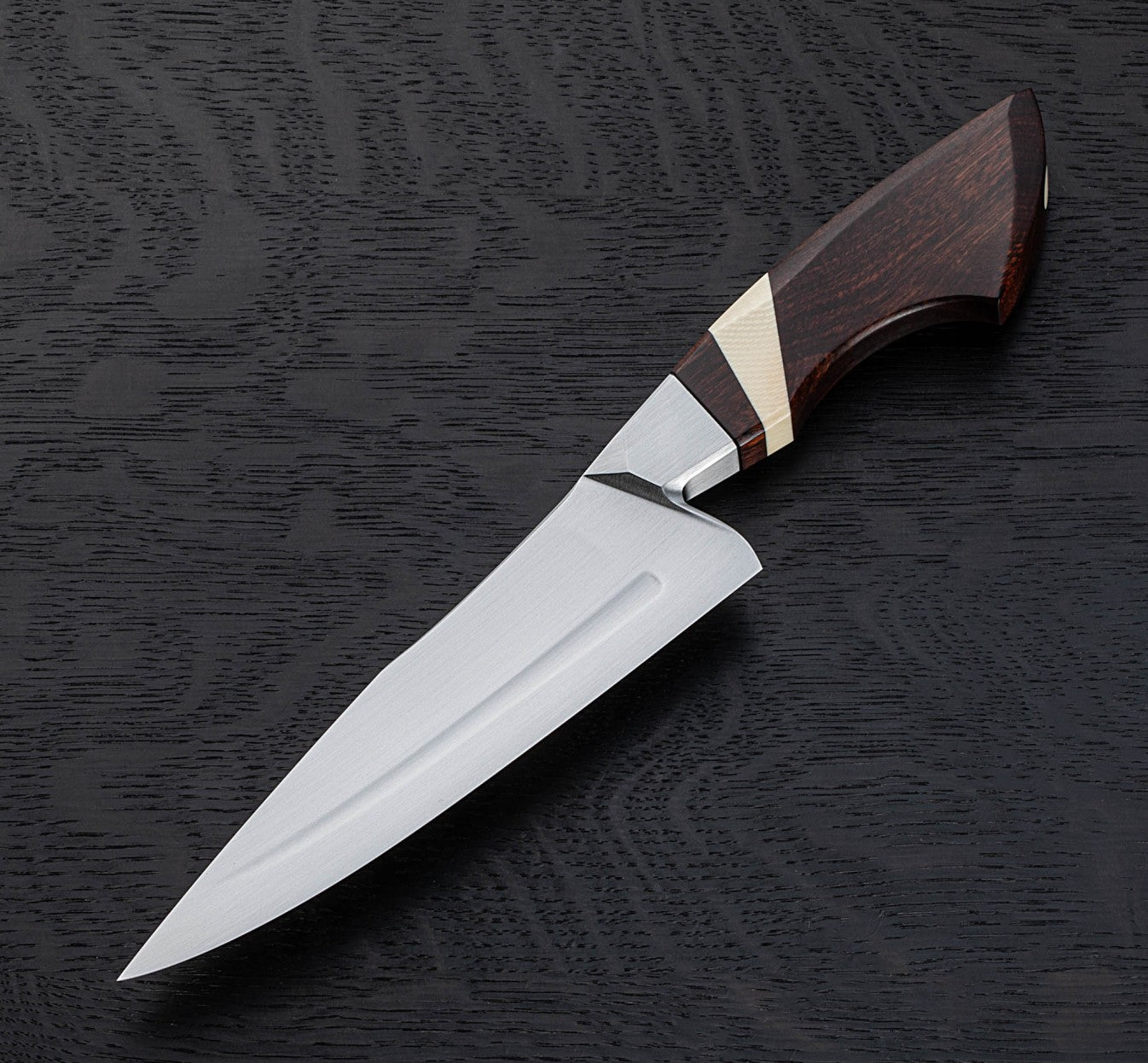 Chechen Compound Chef 175mm
Uniquely captivating in form and infinitely versatile in the kitchen, this 175mm / 6.9" cutting tool from bladesmith Charlie Ellis is part slicer, part petty chef, and part all-around kitchen utility knife. Back in the collection in pre-owned, almost-new condition, this is a wonderful opportunity to own a unique and gorgeous build from this talented maker. Cleaned and re-finished by our team, the knife is in pristine condition with only a very slight oxidation mark visible in the third photo, where bolster transitions to blade, the mark measuring less than 1mm across and only visible upon the closest inspection. The details Charlie so elegantly combines in this knife are superb: the blade's spine, which flows out of a geometrically faceted integral bolster with heirloom fit, is itself contoured and faceted from heel to tip. Moving downward from the spine into the blade's symmetrical bevels, you'll first find a shallow concave section, followed by a more pronounced concave channel, and finally the convex portion which culminates at the very thin, very sharp edge. Tapering steadily to a needle-like tip for precision slices and detail work, the spine begins thick and sturdy, giving the knife excellent weight and balance. Finally, in a shape reminiscent of a larger slicer or carving knife, the handle curves downward at the rear, filling the hand with beautifully sculpted chechen wood adorned with a spacer of white G10, as well as a matching cap at the rear, the only visible sign of the knife's mechanically fastened through-tang construction. 
*This knife is pre-owned. If you have any questions, please contact us.