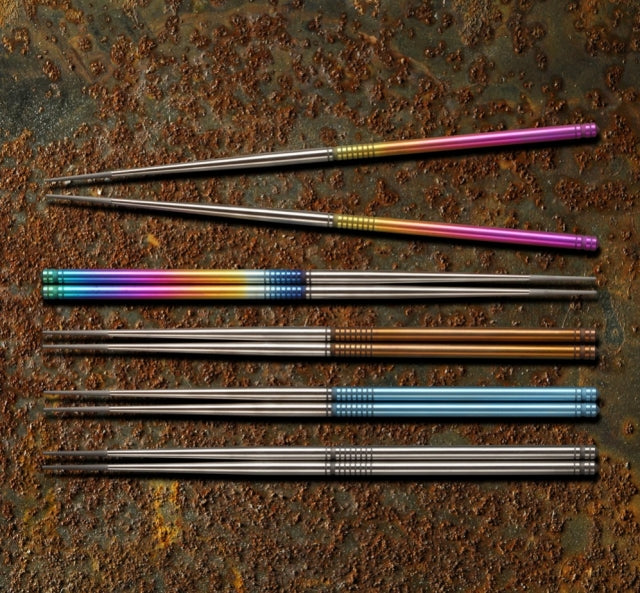 Introducing TiStix and the Eatingtools Blog
Welcome to the Eatingtools Blog!
With our curated collection of extraordinary and handmade culinary utensils as the backdrop, this newly launched blog will deliver interviews, tool and artist features, food news, and more from the Eatingtools team and the best in the industry. We look forward to having you as we explore the culinary world from the perspective of the tools of the trade.
Introducing TiStix by Eatingtools
Now, we're excited to use our first post to announce the release of the first gourmet eating utensil wholly produced by Eatingtools.
In preparation for the 2015 holiday season, TiStix by Eatingtools are now in stock in every color and pattern, precision made and hand finished in the USA.
Making TiStix
TiStix are made from full-length, solid, machined titanium--medical grade 6AL4V, sourced in the United States. The raw material is sent to a specialized metalworking shop in North Carolina for rough profiling, then artist and craftsman Alan Folts hand-finishes and anodizes each stick at his shop in Florida. Watch Alan in the process of anodizing TiStix. 
Alan shows us how a Rainbow Fade is achieved:
Anodizing
Anodizing is the process of growing an oxide layer on a metal surface electrochemically. The titanium is submerged in a solution attached to a power supply; as voltages increase, the color of the titanium changes. This happens because an oxide layer forms on the metal. Depending on how long the titanium is submerged in the electrochemical solution, different thicknesses of oxide form, resulting in different colors.
Because anodizing changes the microscopic texture of the surface to create color without using dyes, titanium's food-safe properties are retained. Anodizing even increases titanium's resistance to corrosion and wear, making it a treatment that adds both beauty and utility to an object.
The story behind TiStix
Alan Folts designed TiStix over 12 years ago. When they launched, TiStix were one of the premier consumer products in titanium craftsmanship--the original titanium chopsticks. They are 100% made and sourced in the USA. Even the packaging is printed in the NYC area minutes from Eatingtools' Brooklyn headquarters.
We've known our friend Alan for over a decade now and are excited to be re-launching his classic design with a new logo, new packaging, and new website.
Alan's classic design is recognizable and unmistakable. A series of mid-stick grooves allow for a good grip. Thin sandblasted and rounded tips make picking up food, even that elusive lone grain of rice, easy. Lightweight, strong, nonmagnetic and a poor conductor of heat, titanium really is the ultimate culinary material.